resonates with Indigenous communities
Calgary, Alberta–Imagine having a teepee room in your school with elder volunteers taking turns being available for students. This is a reality, thanks to the HEADSTRONG program.
Across Canada, youth are coming together to lead HEADSTRONG anti-stigma events. Alberta is at the forefront, hosting nearly half of the 30 summits planned for the 2018-2019 academic year. The youth-led gatherings are particularly resonating with Indigenous communities.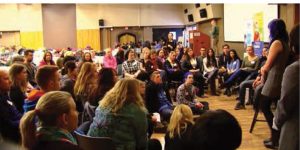 Since the launch of Canada's inaugural First Nations HEADSTRONG summit in Calgary in October 2016, Indigenous-focused summits make up close to 40 percent of HEADSTRONG'S ongoing work. Five of this year's Alberta summits will be Indigenous-led, four by First Nations and one by the Métis Nation of Alberta (MNA), the first Métis summit in Canada. Indigenous gatherings are also planned in Saskatchewan, Manitoba, Nova Scotia and the Yukon.
HEADSTRONG is a national, evidence-based, youth-led anti-stigma initiative created by the Mental Health Commission of Canada (MHCC). It inspires youth ages 12 to 18 to Be Brave, Reach Out and Speak Up about mental health. It teaches students how to reduce stigma and become mental health champions in their schools.
"Working with First Nations developed naturally because HEADSTRONG is youth-centric and stories are so key. It naturally reflects elements of First Nations culture like learning through story-telling," says Fiona Haynes, HEADSTRONG Coordinator for Western Canada.
Small groups of high school students from a region are brought together for a day-long summit where they hear stories of hope and recovery from peers with lived experience of mental illness, participate in stigma-busting activities, and design action plans to use when they return to their school.
"We all have a voice, and we can all use it to make change," affirms grade 12 student Karsen Black Water who will soon attend her third HEADSTRONG event.
Empowered by the inaugural 2016 First Nations summit, Black Water and her schoolmates anchored their student-driven mental health activities in Blackfoot culture and the teachings of their Elders. Kainai High School now boasts Elders-in-residence and a teepee room, a safe space where students can sit, talk, pray and smudge with Elders or listen to the wisdom of traditional stories.
"The Elders guided us and told us about the role of the teepee, emphasizing the respect and kindness that each of us should hold within us," explains Black Water. She says students are more respectful of each other and listen more closely to their Elders since HEADSTRONG took root at the school.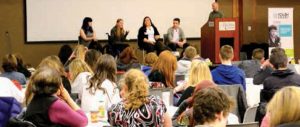 Cultural adaptability is what makes HEADSTRONG a great fit for Métis  youth says Tania Kruk, MNA Manager of Youth Programs and Services. In a recent MNA study, Métis youth identified culture as foundational to their mental health, but Métis culture often flies under the radar, lumped into a pan-Indigenous view. "The summit will gather Métis youth together, bring in unique Métis cultural elements, and create the sense of community and belonging among Métis youth," says Kruk. The MNA will assemble 100 Métis youth from across the province for an inaugural Métis summit on October 13 in Edmonton.
On the program are performances by 17-year old Métis fiddler Brianna Lizotte and 23-year old Luc Gauthier, a Métis jigger and signed recording artist who writes lyrics about mental health. Gauthier, a youth worker, will also speak about how he has been touched by mental health challenges and the strength he has found in being unapologetically Métis.
"You've got to be headstrong. You've got to be comfortable in your own skin. You've got to be confident in who you are and where you're going. All these things are so important to having good mental health," says Gauthier.