By Parry Stelter
In the Gospel of Luke there is a story of a woman who was looked down upon as a sinner, yet she gave all she had to Jesus, sobbing on His feet, wiping them with her hair and anointing Him with expensive perfume. She seemed to be hurting and broken and wanting more in life. She knew what it was like to give in to what was the easiest road for her at the time, which was a life of sin. She had heard through the grapevine that a special man named Jesus had come to the house of a well-known prophet. She knew that something was different about this man named Jesus who was at this man's house.
Many of us who are reading this column were also known as someone who lived a life of sin. Some people reading this column still live a life of sin and are known for being a drunk, a druggy, or a person who likes to sleep around. Some are known for being a person who has few morals or is considered someone who can't be trusted or who can't help but lie instead of telling the truth.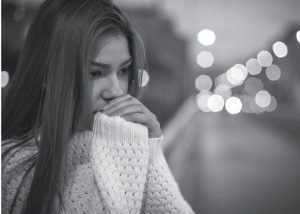 Some of you reading this have put that kind of life behind you, and maybe some of you are still struggling with a life of sin like this.
This woman might have been at the end of her rope and probably came to Jesus knowing He could make a difference. Hoping He could make a difference. Knowing that just maybe He could heal her broken heart. Could this Jesus help her be the person she always wanted to be but couldn't because she couldn't get past certain habits? Certain ways of thinking. Certain ways of reacting to life. This Jesus could heal her broken heart. This Jesus could make her whole. This Jesus could forgive her, because word on the street was that this Jesus was in fact God Himself.
Luke 7:44-48 tells us that Jesus turned to Simon after he had told the woman to back off and step away from Jesus. This scripture reads: "Then He turned toward the woman and said to Simon, 'Do you see this woman? I came into your house. You did not give me any water for my feet, but she wet my feet with her tears and wiped them with her hair. You did not give me a kiss, but this woman, from the time I entered, has not stopped kissing my feet. You did not put oil on my head, but she has poured perfume on my feet. Therefore, I tell you, her many sins have been forgiven–as her great love has shown. But whoever has been forgiven little loves little.' Then Jesus said to her, 'Your sins are forgiven.'"
We don't know much about this woman, but I can guarantee that her life was never the same after that. Maybe she still struggled with certain sins after that encounter, or maybe she was able to let go of them all, but her heart would have been healed. She cried those tears of sorrow over her sin, as she wiped Jesus' feet with her hair. She gave of her expensive perfume. She gave of herself and gave of it without shame. Her kindness towards Jesus surpassed that of Simon, who had brought Jesus over and fed Him expensive food. Instead, Jesus received expensive perfume and on His feet, of all places.
This woman was forgiven much because she loved much. She gave of her entire self that day, and presumably, Jesus could sense her genuine heart seeking refuge. Seeking forgiveness. Her heart was healed that day because of forgiveness. Her heart was healed that day because of Jesus.
If you have never known Jesus in a personal way, why don't you give Him a chance and cry your heart out? Shed some tears. Get serious with Jesus, and tell Him all about your hurt, your sin, and your way of life. He is waiting for you. He will see your honesty and humility. Don't hold back! Don't wait any longer! Run to Jesus right now and fall at His feet.
If you've never believed in Jesus before, do it today. If you have fallen away from Jesus come back to Him today. Fall on your face and let Him heal your hurting heart. Those who have been forgiven little, love little; those who have been forgiven much, love much. How much have you been forgiven for? What will you do? Can you afford to wait any longer? Come! Come to Jesus now!